Bienvenue - Welcome - Karibu - Bem vinda - أهلا بك
"To deny people their human rights is to challenge their very humanity." – Nelson Mandela.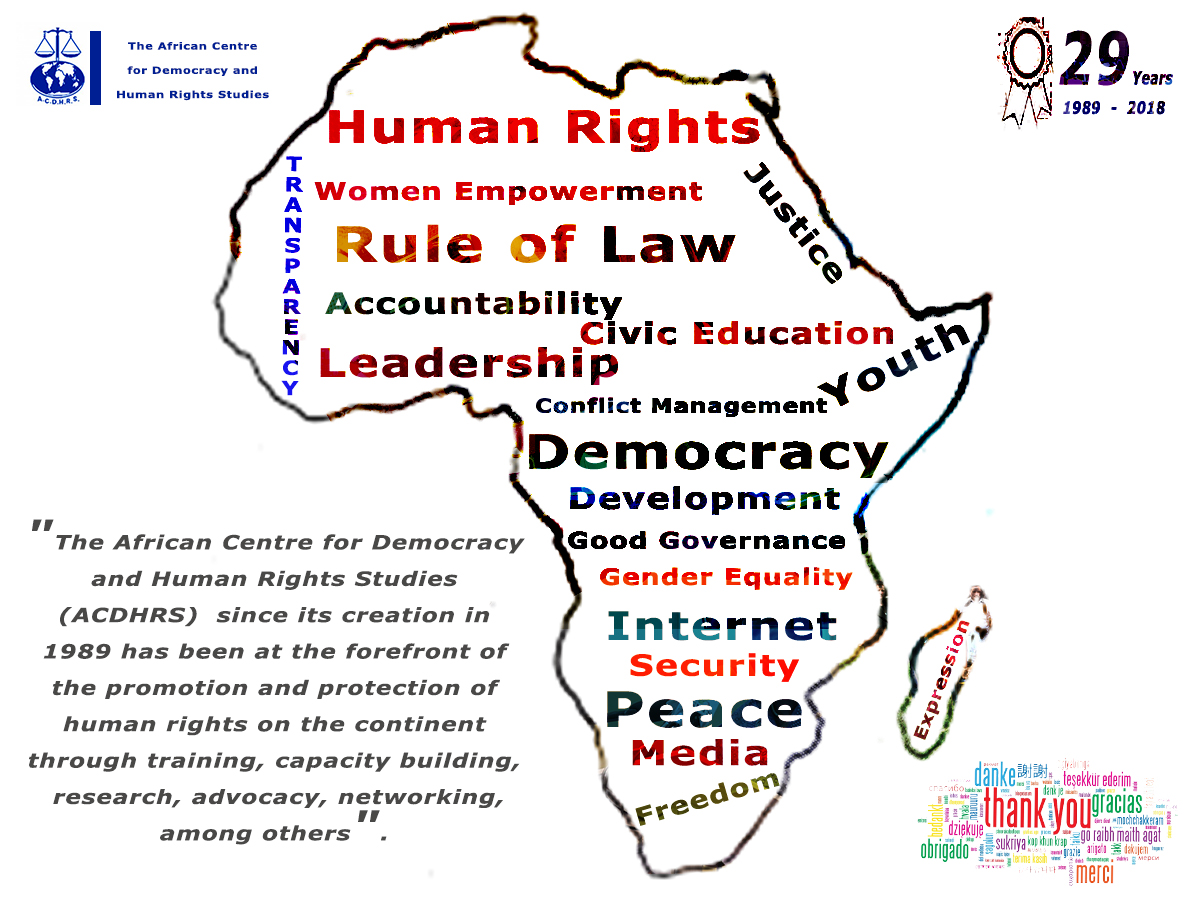 The African Centre for Democracy and Human Rights Studies (ACDHRS) is independent, non-profit regional human rights NGO based in Banjul, The Gambia. It was set up in 1989 by an Act of Parliament of the Republic of The Gambia. However, 1995, the African Centre was re-launched, thereby repealing the Act, and thus making the Centre a truly independent, autonomous and pan-African NGO.
The initial staffing of the Centre was devoid of the requisite professionalism necessary for managing its activities. This created an overload on management, which had to do much of the work. The ACDHRS is now staffed with very competent personnel, who provide the required expertise to man all functional Units. Job descriptions have been provided for the staff and a Co-ordination Committee, comprising all heads of units, has been established. It meets regularly to plan the Centre's activities, supervise implementation of programmes and manage the daily tasks.
The work of the Governing Council is aided by the Executive Committee - the Chairman, Vice Chairman and two other members of the Governing Council with the Executive Director as Secretary. It also meets twice a year for matters requiring prompt attention.
The Centre was established in June 1989 as a regional Non-Governmental Organization to promote, in cooperation with other African and international institutions, the observance of human and peoples' rights and democratic principles throughout Africa.
The African Centre is governed by a Board of eminent African personalities with vast experience and knowledge in the field of human rights and democracy issues in Africa. The Board also comprises of an Advisory Committee whose members are drawn from Africa and beyond. The working languages of the African Centre are English and French. However, plans are underway for the use of other languages of the African Union. The African Centre ensures that gender is mainstreamed into all its programme areas and pays great respect to gender parity in relation to the composition of its staff.
The African Centre has observer status with the African Commission on Human and Peoples. Rights and a Consultative Status with the Economic and Social Council of the United Nations.
We have built a human rights library and documentation resource available to anyone interested in African human rights. The Documentation Centre welcomes publication exchanges with African and other NGOs.
PICTURES OF THE OPENING CEREMONY OF ACDHRS LIBRARY