African Centre for Democracy and Human Rights Studies receives ICPS Award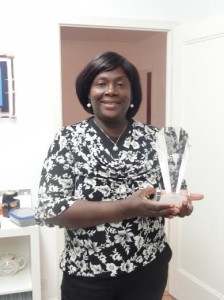 The International Centre for Parliamentary Studies (ICPS) based in the United Kingdom, on 4th December, 2013 awarded the African Centre for Democracy and Human Rights Studies (ACDHRS) with the ICPS Award 2013. The Award was received on behalf of the ACDHRS by its Executive Director, Mrs Hannah Forster amidst a deafening applause from the distinguished participants and delegates in Malaysia, Kuala Lumpur.
The Award by the ICPS is in recognition of the ACDHRS's contribution towards global initiatives that seek to guarantee free, fair and efficient elections whereby citizens can have a genuine involvement in how they are governed. This Award publicly celebrates the success of individuals and organisations that have made outstanding contributions in electoral affairs. In total, there were eleven award categories with three finalists per category and one award. The International Electoral Awards Committee consists of nine high level electoral experts, public figures and political representatives. The Zimbabwe Lawyers for Human Rights followed second immediately after the ACDHRS.
ACDHRS is humbly honoured by this Award in recognition of its continuous efforts at both the regional and national levels. To be honoured so profoundly gives all the hard working staff of ACDHRS the deepest pleasure. ACDHRS believes in democratic legitimacy of government of any country is a crucial pre-requisite for peace and stability and that elections are the cornerstone of democracy. It will continue to advocate for free and fair electoral processes in established democracies as well as in countries still in process of democratisation.
The ACDHRS wishes to thank each and every one of its partners, both in Africa and beyond, funders, Board Members and all Staff for their support and collaboration over the years towards the promotion and protection of human rights, democracy and the rule of law in Africa, particularly as it celebrates its 25th Anniversary in 2014.