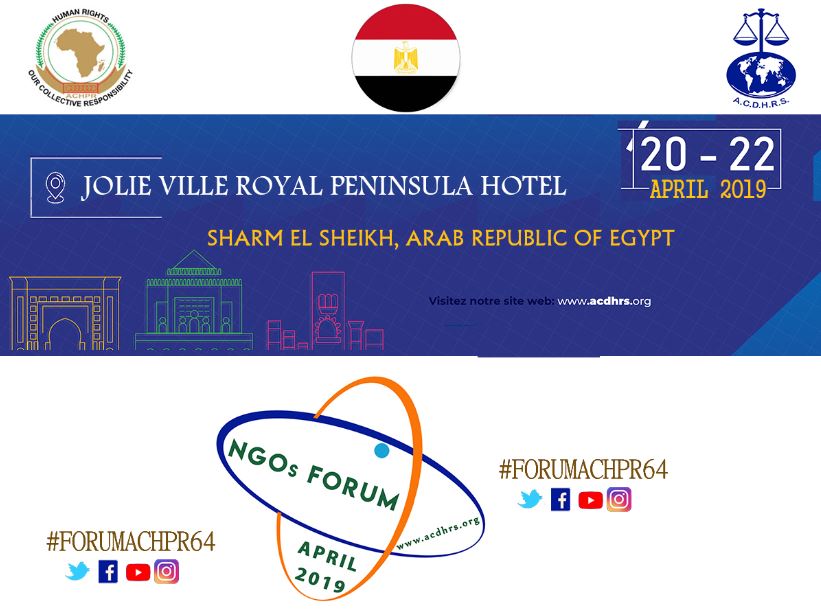 The African Centre for Democracy and Human Rights Studies (ACDHRS) in collaboration with the African Commission for Human and Peoples' Rights (ACHPR), and the Arab Organization for Human Rights (AOHR) will hold a three days forum with representatives from African civil society/NGOs, international NGOs from Africa and beyond working on youth, democracy, human rights and the rule of law issues, academia, and media in Sharm El Sheikh, Arab Republic of Egypt from the 20th – 22nd April 2019, at Jolie Ville Royal Peninsula Hotel. 
The theme of the NGOs Forum will focus on the African Union's theme for 2019 'Refugees, Returnees, Internally Displaced Persons and Asylum Seekers: Towards Durable Solutions for Forced Displacement'. Although, the Kampala Convention is an inter-governmental Instrument, this important instrument was adopted through an elaborate process involving all stakeholders.
The Forum on the Participation of NGOs in the 64th Ordinary Sessions of the African Commission on Human and Peoples' Rights and 38th African Human Rights Book Fair will also share updates on the human rights situation in Africa with a view of identifying responses as well as adopting strategies towards improving the situation on the continent.
The expected outcomes include : (1) Adoption of Recommendations and Resolutions to be forwarded to the African Commission for its consideration during the 64th Ordinary Session; (2) The review of the implementation of the African Union Convention for the Protection and Assistance of Internally Displaced Persons in Africa (challenges and way forward); (3)Preparation and presentation of an NGOs Statement at the official opening of the 64th Ordinary Session (highlighting deliberations of the NGOs Forum); (4) Presentation of alternative reports on the situation of human rights in countries (Egypt, Lesotho, Gambia) whose states reports are to be examined during the said Session; and (1) Networking, advocacy and lobbying opportunity at different levels.
For more information, please contact:
John Gbenagnon | Communication and Information Officer | E-mail: communications@acdhrs.org 
Adama Cooper Jah | Administrator | ACDHRS I admin@acdhrs.org  
Follow us on Social Media:
Facebook:https://www.facebook.com/ACDHRS|Twitter: https://twitter.com/acdhrsorg
YouTube: ACDHRS TV