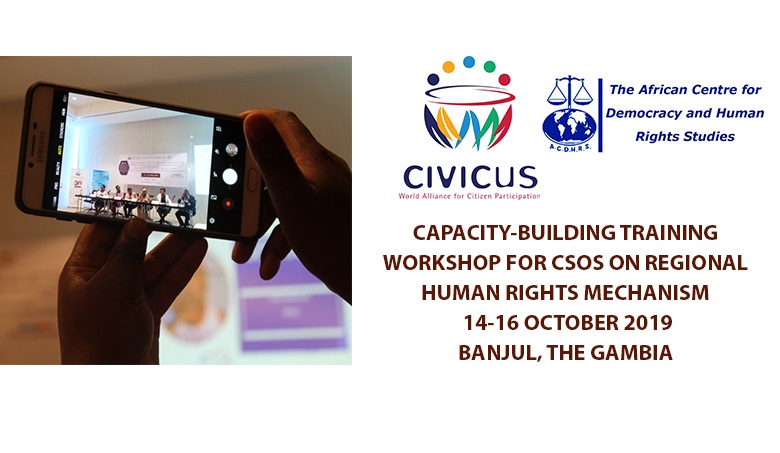 By John Gbenagnon (Consultant in Communication)
PRESS RELEASE
Capacity-Building Training Workshop for CSOs on Regional Human Rights Mechanism
 14-16 OCTOBER 2019
BANJUL, THE GAMBIA
CIVICUS in collaboration with The African Centre for Democracy and Human Rights Studies is holding a three-day training workshop for its members from Sub-Saharan region on 14 to 16 October 2019 in Banjul, The Gambia.
The focus of the training is to provide specific experiential learning and exchange opportunities, using external and partner resources to assist participants in understanding how regional human rights mechanism work.
The key themes for Banjul training include; advocacy and litigation strategies: the African Commission's Complaints Procedure; overview of the situation of democracy, rule of law and human rights in Africa (perspectives of HRDs and civic space); advocacy with relevant human rights system: ACHPR and relevant Special Mechanisms and Mandates, and promotion and protection of HRDs in Africa (perspectives from regional legal framework).
The main objectives of the training are: (1) to empower civil society actors and human rights defenders in Africa to meaningfully and effectively conduct advocacy and campaigns with African human rights system; (2) to develop strategies on how to improve the protection of human rights at the national level through their engagement with regional human rights mechanisms.
The Expected outcomes are: (1) Enhanced skills and knowledge to conduct strategic advocacy and campaigns with relevant Africa Human Rights Systems; (2) Empowered participants with advocacy strategies for managing their organisational advocacy and campaigns mandates; (3) Strengthened network of participants for strategic collaboration in their advocacy work.
The training will bring together about 15 participants from Sub-Saharan Africa.
For more information, please contact the African Centre on +220 4462338/4462340
Email: Mr John Gbenagnon (ACDHRS Communication and Information Officer) at communications@acdhrs.org  
Follow us on Social Media:
Facebook:https://www.facebook.com/ACDHRS l Twitter: https://twitter.com/acdhrsorg