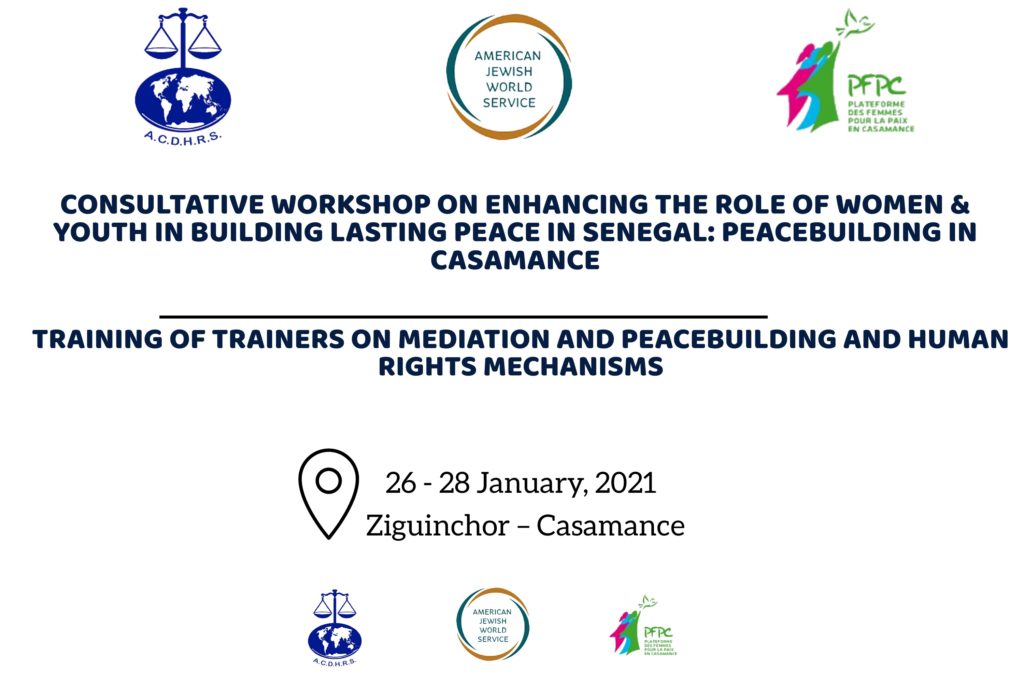 The African Centre for Democracy and Human Rights Studies (ACDHRS) in collaboration with the American Jewish World Service (AJWS) and Women's Platform for Peace (PFPC) in Casamance will organize a one (1) day Consultative workshop on enhancing the roles of women and youth in building lasting peace in Senegal and two (2) day training on 'Mediation and Peacebuilding, and Human Rights Mechanisms in Ziguinchor, Casamance from 26th – 28th January 2021.
The main objective of the Consultative workshop is to brain storm and discuss issues around the importance of inclusive, non-discrimination, participation and representation of citizens, while the training of trainers aims to build the capacity of women and youth, introduce and reinforce the clear concept of human rights, mediation and peacebuilding, as well their use to as promote stability, peace and security in The Gambia, Senegal and Guinea Bissau region. It is envisaged that the activities will enhance engagement and participation of key actors working in human rights and conflict management in a strategic manner that would contribute towards the consolidation of peace in the sub region in general and particularly in Casamance, Senegal.
The Consultative workshop and Training will bring together 25 prominent youths, women mediators and civil society organization representatives from the three countries, namely The Gambia, Senegal and Guinea Bissau.
For more information, please contact the African Centre on +220 4462338/4462340 Email: programs@acdhrs.org / library@acdhrs.org