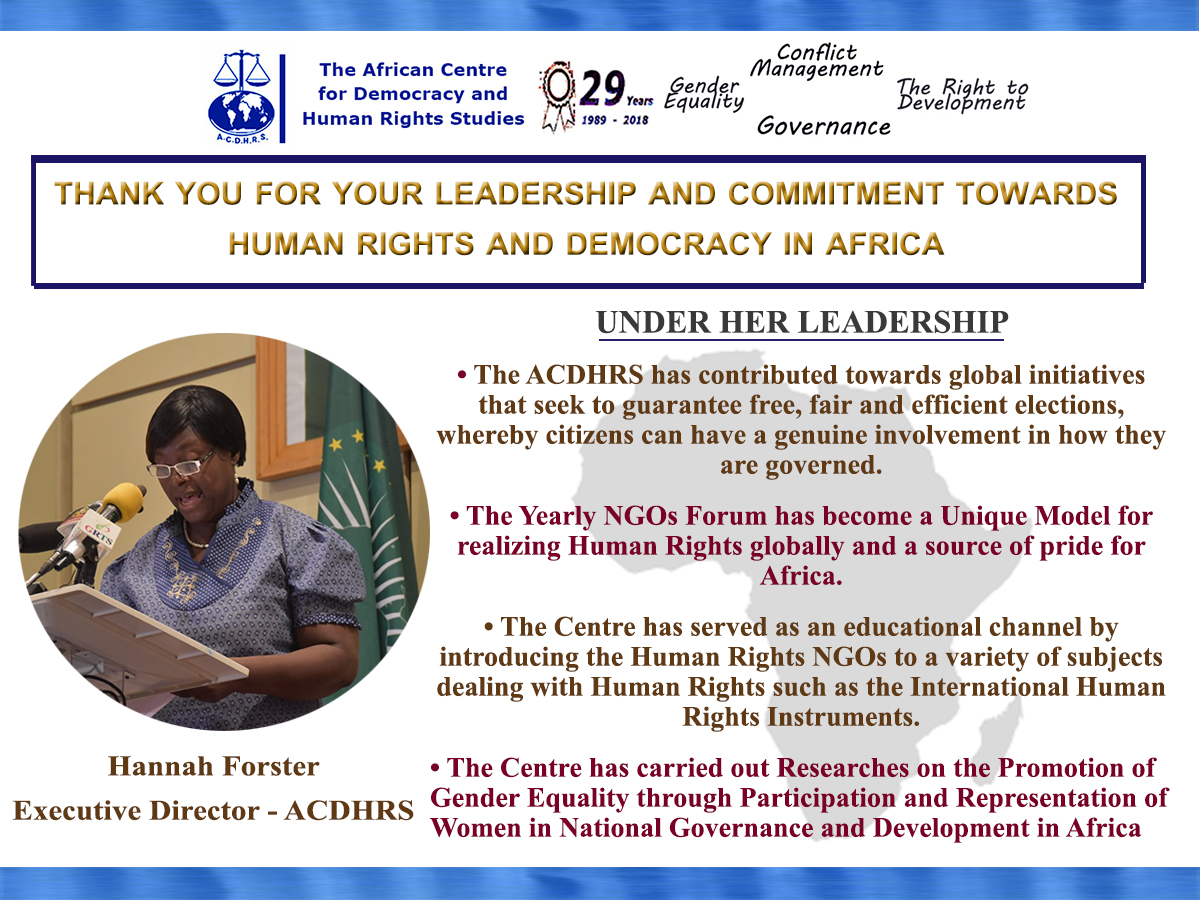 Hannah Forster is the Executive Director of the African Centre for Democracy and Human Rights Studies (ACDHRS) based in Banjul, The Gambia (from 2001 to date), a regional institution whose main objective is to build and maintain a human rights movement in Africa to promote greater respect and observance of human rights and fundamental democratic principles. A Gambian, she has been engaged extensively with the African and International Human Rights System and Mechanisms for almost three decades. During her tenure, she has had engaged with the African Union Commission as well as Regional Economic Communities (RECs) in Africa. Furthermore, Hannah has worked for and with civil society at the local, national, sub region, regional and international levels for over three decades, prior to this she served in the Ministry of Education, as an educationist and information scientist for over twelve years.
She graduated from the University of Ghana, Legon; Loughborough Technical College and Loughborough University in the United Kingdom, respectively where is received a DipHE and BLS (Hons). She also holds an MA in Human Rights and Conflict Management from Scoula Superieur Sant'Anna, in Pisa, Italy. She has also undertaken internships and training in paralegal services as well as various areas of human rights and specialises in human rights documentation and information handling techniques; human rights education; women's human rights; child rights, governance and elections.

As an expert and activist, she has extensive practical experience programme and project development and planning, implementation; and monitoring and evaluation; as well as in the development of training and education programmes on Human Rights, Governance, Gender Equality and Conflict Management; has also designed and carried out various research in these areas as well as directed a number of human rights and democracy initiatives in Africa. She serves as a founding expert on the Committee on the Prevention of Torture in Africa (CPTA); Study Group on Freedom of Association, Assembly; and Advisory Group on the Report of Women Human Rights Defenders of the African Commission on Human and Peoples' Rights, among other engagements.
She has been involved in the development and drafting of the African Women's Protocol, among other documents and have written some publications on civil society, the African Commission, and made many presentations on human rights related issues including democracy, development and women's rights. She delivered the 7th Chris Grey Lecture in 2014 at Florida International University and have also lectured and made presentations in many institutions on the African Human Rights System; on Women's Rights in Africa and on Advocacy Strategies Development during the LLM Courses and Gender Institutes of the Centre for Human Rights, University of Pretoria (2004-2010); Women's Law Colloquium of the University of Zimbabwe (2008), among others. Her work has taken her to over 40 African countries.
As an initiator and Head of ACDHRS, she is the Convenor of the Forum on the Participation of NGOs in the Work of the African Commission on Human and Peoples' Rights held twice a year, where a watershed of civil society contribution and participation in the African Human Rights System is institutionalised. She has led and or participated in many advocacy campaigns on the development, adoption, ratification, domestication and implementation of regional treaties including the African Charter on Democracy, Elections and Governance. She has a special interest in gender dimensions as well as women's participation in the democratic process.
She also developed and implemented projects in these areas including the African Transformative Justice Project, which seeks to promote peace building and transformation and involved the training of mediators and the establishment of mediation and peace centres in the rural communities of the Gambia to enable them maintain peace in their milieu. This project was the inspiration for the present Alternative Dispute Resolution Act in the Gambia. Furthermore, she is a member of the Working Group on Women, Youth, Peace and Security in West Africa and The Sahel coordinated by UNOWAS.
Mrs. Forster serves as a Steering Committee Member of the World Movement for Democracy and the International Civil Society Committee of the Council for the Community of Democracy. She is the outgoing President of the African Democracy Forum (since 2006), a network of over 450 democracy and human rights organisations throughout Africa, which seeks to consolidate democracy in Africa by providing opportunities for democrats and activists to openly express their views and act as a platform for mutual support and sharing of resources.
A member of the African Women's Lobby advocating for gender mainstreaming at the African Union, Mrs. Forster is a founding and or Steering Committee Member on many national and international bodies including the Gender Action Team (GAT) in the Gambia; Solidarity for African Women's Rights (SOAWR); the African Spanish Women's Network; the African Union/European Union Civil Society Human Rights Dialogue as well as the Chairperson of the Justice and Peace Commission (JPC) of The Gambia. She has been trained in election observation and monitoring and observed elections in a number of countries including Mauritania, The Gambia, Nigeria with National Democratic Institute (NDI), Senegal with the Women's Platform for Peaceful Elections), Sierra Leone, Kenya, Zambia (with the African Union/Department of Political Affairs) among others.
She has been recognised as an Ambassador of Peace in 2001 by The Interreligious and International Federation for World Peace; the Gambia Library and Information Services Association Award (2007); is the recipient of the Women of Courage Award (2007) and the ICPS Award 2013 for work in governance with civil society. She received the Kairaba Peace Award for contributions in the maintenance of Peace in Cassamance.

Mrs. Forster is married with children.