The Forum on the Participation of NGOs in the Ordinary Session of the African Commission on Human and Peoples' Rights (ACHPR) also known as the NGOs Forum is an advocacy platform established and coordinated by the African Centre for Democracy and Human Rights Studies to promote advocacy, lobbying, and networking among human rights NGOs and between human rights NGOs and other stakeholders for the promotion and protection of human rights in Africa. The Forum shares updates on human rights, democracy, and the rule of law in Africa by the African and International NGO community to identify responses as well as adopt strategies for improving the situation on the continent.
The NGOs Forum shares updates on the human rights situation in Africa by the African and international NGOs community with a view of identifying responses as well as adopting strategies towards the promotion and protection of human rights in the continent.
The African Continental Free Trade Area (AfCFTA) is a central theme for the African Union (AU) in 2023, which is part of the AU Agenda 2063. AfCFTA aims to tackle economic disparities, unemployment, and limited intra-African trade by fostering a single market. Despite challenges, the AfCFTA could catalyze economic growth, industrialization, and trade diversification, reducing dependence on external markets. Youth are important stakeholders that can contribute innovative ideas through creative businesses and foster economic diversification and employment for the success of AfCFTA. Africa's development progress includes economic growth, poverty reduction, and education access, but challenges persist. These include inequality, healthcare issues, gender-based violence, environmental degradation, and governance deficits. The COVID-19 pandemic has exacerbated vulnerabilities, emphasizing the need for coordinated responses prioritizing human rights and sustainable development. To accelerate AfCFTA for maximum intra-African trade and integrated investment results good governance practice on the continent is key. The African Union made strides in adopting Africa Charter on Election Democracy and Governance which reiterates the interconnection of transparent free political elections with economic and social development as essential for peace.
ACDEG is opposed to coup d'états and unconstitutional changes of governments which empowers the AU Security Council to combat together with the Regional Economic Communities (RECs). However, democratic processes continue to be manipulated with a view of extending presidential terms, leading to conflict and political instability. Recent examples include Guinea, Burundi, Uganda, Togo, and violent protests in Senegal. Meanwhile, the volatile political climate in Niger disintegrated into coup d'états as witnessed earlier this year in Sudan. Various countries, including the Democratic Republic of Congo, South Sudan, and Somalia, are grappling with long-standing conflicts, and sexual violence, leading to governance gaps, security concerns, displacement, and economic struggles. The impact of conflict-induced disruptions on livelihoods and resources disproportionately affects women, girls, and youth who face challenges in sustaining themselves and suffer from reduced access to healthcare, education, and security. This vulnerability leads to various forms of violence, including gender-based violence, child trafficking, child soldiers, child labor forced marriage, and a high youth unemployment rate. Women's and girls' rights are frequently violated in these situations, creating significant obstacles to their recovery and well-being.
The 20th anniversary of the Maputo Protocol, a significant legal instrument for women's, girls and young women's rights in Africa, is being celebrated this year. The protocol has been instrumental in advancing gender equality and women's rights by addressing harmful traditional and religious practices, reproductive health, women's participation in politics, economic empowerment, and violence against women. Several African countries have taken steps to eliminate harmful cultural and religious practices and violence against women, increase women's representation in parliament, and adopt laws and policies for access to justice and protect women and girls. Despite progress in areas like women's literacy, education, reproductive rights, and health, there are still challenges hindering the full realization of women's rights in Africa. Implementation of the Maputo Protocol remains slow, harmful cultural and religious practices persist, and legal frameworks have not been fully integrated into national legislation. Ensuring transparency, accountability, and inclusion in addressing these issues is crucial, as continued efforts to advance gender equality and women's rights are vital for sustainable development and progress in Africa.
Another concern relates to food insecurity which remains a pressing issue, particularly in conflict-riddled nations, and disregarding the ACDEG impacts negatively on the realization of AfCTFA, particularly in the RECs. The continent has experienced a significant increase in food and basic services prices, contributing to the potential for mass protests demanding access to sustenance.
The IMF characterized the short-term prospects for Sub-Saharan Africa as highly uncertain in October 2022 due to ongoing global conflicts, particularly in Ukraine, affecting food and fuel prices in the region. This has led to a significant increase in staple food prices, such as in Rwanda where they surged by 44% year-on-year in December 2022.
Conflicts have harmed civilians in the Central African Republic, the Democratic Republic of the Congo (DRC), in Cameroon Ethiopia and South Sudan, along with horrific abuses related to terrorism and counter-terrorism operations in the Sahel, Nigeria, Somalia and Mozambique. Government security forces and non-state armed groups have been implicated in massacres, targeted killings, sexual violence, burning and looting of villages, kidnappings, forced recruitment of children, attacks on students, teachers and illegal occupation of schools. The near-total impunity for abuses worsens an already fragile humanitarian and human rights situation on the continent.
These challenges impede continental and regional endeavors to address socioeconomic governance, peace, and security matters. Notably, they contribute to the resurgence of coup d'états and unconstitutional changes of governments, undermining progress in achieving peace, stability, and sustainable development across Africa. The AfCFTA represents a potential solution to some of these challenges, but effective collaboration and addressing various hurdles are essential for its success.
OBJECTIVE
The objective of the NGOs Forum is mainly to foster closer collaboration between and among NGOs and with the African Commission and other African human rights mechanisms, for the promotion and protection of human rights in Africa.
THEMATIC FOCUS: Consequently, the Forum will also deliberate on the following sub-themes;
1. Role of Youth in the Implementation of the African Union Agenda 2063: Africa's young population, with over 400 million individuals aged 15 to 35, demands increased investment in economic and social development. Youth play a crucial role in realizing the African Union's Agenda 2063, contributing to sustainable development, social progress, and economic growth. The AfCFTA offers opportunities for youth to innovate, create businesses, and foster economic diversification and employment. Encouraging innovation ecosystems and providing quality education and skills training are vital for youth engagement in key sectors such as agriculture, manufacturing, technology, and conservation. The youth also have the potential to promote eco-friendly practices and climate resilience, while raising awareness about the importance of preserving Africa's natural resources.
2. Achievements and Challenges of the Maputo Protocol: The Maputo Protocol is a significant international treaty addressing gender-based human rights challenges in Africa. It has led to advancements in women's rights across the continent by addressing issues such as political participation, economic and social rights, health, protection against violence, and legal equality. Many African countries have adopted or improved laws against gender-based violence (GBV) and discriminatory practices. The protocol emphasizes economic empowerment, equal resource access, and women's political representation, resulting in measures like quotas for women's roles. Despite its positive impact, challenges hinder its full implementation. These include varying ratification rates, cultural norms, inadequate resources, weak legal systems, and violence against women during conflict. Overcoming these obstacles requires collaboration among governments, civil society, international partners, and communities to fully realize the potential of the protocol and improve women's lives across Africa. .
3. AfCFTA As the Theme of AU for The Year 2023 The African Union (AU) has designated the African Continental Free Trade Area (AfCFTA) as its central theme for the year 2023, highlighting its commitment to fostering economic integration and development in Africa. AfCFTA represents a groundbreaking agreement aimed at creating a unified market for goods and services, boosting intra-African trade, and spurring economic growth. This theme underscores the AU's recognition of the significant economic benefits and transformative potential of this trade agreement. AfCFTA's goals include eliminating tariffs and trade barriers among member states, facilitating the flow of goods and services, attracting investments, and enhancing competitiveness. The agreement also covers areas beyond trade, such as intellectual property, competition policy, and investment. This theme reflects the AU's dedication to enhancing Africa's economic resilience and self-reliance, especially in the face of global challenges like the COVID-19 pandemic. AfCFTA offers an opportunity for African nations to diversify their economies, build value chains, and reduce dependence on external markets. The agreement aims to address inequalities by promoting inclusive and sustainable development, with a focus on capacity building, infrastructure development, and measures to ensure that smaller economies and marginalized groups can fully participate in and benefit from the trade opportunities. This aligns with the AU's Agenda 2063, a comprehensive development roadmap envisioning a prosperous and integrated Africa.
4. Artificial Intelligence, Data Protection, And Human Rights The intersection of Artificial Intelligence (AI), data protection, and human rights in Africa presents both complex challenges and promising opportunities. While AI technologies are gaining traction on the continent, concerns have arisen regarding data privacy, surveillance, discrimination, and potential human rights infringements. AI holds the potential for economic growth but also can worsen existing inequalities if not appropriately regulated. Africa's digital divide and technology access disparities necessitate cautious management of AI implementation to avoid exacerbating these divisions. Data protection is a critical aspect of AI deployment due to privacy concerns associated with the use of personal data for AI algorithms. Many African countries lack comprehensive data protection laws, leaving individuals vulnerable to data misuse. For example, in 2021, only around 10% of South Africa's population was covered by data protection laws. Progress in data protection in Africa lags behind the projected growth in AI spending, with many African countries receiving poor ratings for data protection and privacy according to Comparitech's report. The International Data Corporation (IDC) forecasts a significant 30.2% compound annual growth rate in Africa's AI spending from 2021 to 2025. Efforts in AI and data protection must prioritize human rights, guided by frameworks like the Universal Declaration of Human Rights, the African Charter on Human and Peoples' Rights, and the International Covenant on Civil and Political Rights to ensure AI respects individuals' rights. Several African nations have taken steps to address these challenges. Kenya passed the Data Protection Act in 2019, and Nigeria's National Information Technology Development Agency (NITDA) provides data protection and AI ethics guidelines. However, implementation and enforcement remain significant hurdles. Organizations and civil society in Africa advocate for transparent and accountable AI systems that uphold human rights. Initiatives like AI for Development in Africa (AIDA) work toward ensuring that AI benefits African communities without compromising their rights.
5. Silencing Guns in Africa: The "Silencing Guns" initiative in Africa, represents the African Union's ambitious goal of ending conflicts, preventing violence, and achieving sustainable peace across the continent. The initiative recognizes the essential link between peace, security, development, and the well-being of African nations. It aims to address the root causes of conflicts, promote dialogue, strengthen institutions, and foster a culture of peace. In 2020, there were 18 ongoing conflicts and 29 armed conflicts in Africa, according to the Uppsala Conflict Data Program. The initiative's objective is to eradicate armed conflicts, extremist activities, and illicit arms proliferation, creating a more secure and stable environment for development. The AU had set a goal to achieve this by 2020, emphasizing political dialogue, conflict prevention, post-conflict reconstruction, and peacebuilding. Key components include disarmament, demobilization, and reintegration programs, conflict prevention strategies, mediation and peacebuilding efforts, and the promotion of good governance and human rights. Collaboration among governments, civil society organizations, and local communities is crucial to successfully achieve the goal of "Silencing Guns" in Africa.
6. Shrinking Civic Space on the African Continent The diminishing civic space in Africa poses a growing concern, affecting democracy, human rights, and overall societal progress. Civil society organizations (CSOs), which play a crucial role in advocating for citizens' rights, are facing increasing restrictions, harassment, and legal limitations. A survey by Afrobarometer revealed that in 2019, approximately 45% of Africans believed they couldn't criticize their government without fearing retaliation. This constriction of freedom of assembly, expression, and association hampers citizens' ability to engage in informed discussions, influence policies, and hold governments accountable. Restrictive laws governing CSOs further hinder their effectiveness, undermining democratic principles and stifling public discourse. To address this issue, African nations should uphold international treaties safeguarding fundamental rights, reconsider and amend restrictive laws, and create an environment conducive to civil society involvement. Recognizing the invaluable role of civil society in promoting transparency, accountability, and societal progress is pivotal for preserving democratic values.
7. Accountability of Reprisals and Judicial Killings in Africa Ensuring accountability for human rights violations, including reprisals and judicial killings, is a crucial element in protecting human dignity and upholding the rule of law. Regrettably, many African countries continue to witness instances of impunity. Amnesty International's report documented cases of extrajudicial executions and torture in various African nations. Effective accountability mechanisms necessitate strong legal frameworks, an independent judiciary, and robust oversight institutions. However, challenges like weak judicial systems, insufficient witness protection, and political interference often obstruct the path to justice. Furthermore, accountability should go beyond legal proceedings to encompass broader societal initiatives like truth-seeking, reconciliation, and addressing underlying structural factors that enable human rights abuses. Promoting accountability requires cooperation between governments, civil society, and international organizations. It involves strengthening national human rights institutions, supporting civil society efforts, and fostering international collaboration to ensure justice for victims of human rights violations.
8. The fundamental role of NGOs in the work of UN-Human Rights Mechanisms: Non-Governmental Organizations (NGOs) play a vital role in strengthening the impact of United Nations (UN) human rights mechanisms. Their involvement extends beyond mere participation and includes serving as critical advocates, amplifying marginalized voices, offering expertise, and holding states accountable for human rights commitments. NGOs serve as watchdogs, particularly when national governments lack the political will or resources to address human rights issues comprehensively. They independently investigate, document abuses, and bring them to the attention of UN bodies. For instance, NGOs like Human Rights Watch and Amnesty International have been instrumental in collecting evidence and advocating for action on human rights violations in Syria. Furthermore, NGOs contribute by providing on-the-ground insights and expertise to UN mechanisms. In discussions on policy recommendations or report drafting, they offer perspectives that enrich the understanding of complex human rights issues. This was evident in the formulation of the Sustainable Development Goals, where NGOs provided diverse viewpoints that influenced the final goals. NGOs also play a crucial role in raising public awareness and engagement in human rights. They bridge the gap between international human rights standards and local communities by translating complex legal language into understandable terms. This empowers individuals to advocate for their rights. For example, when indigenous communities in Latin America faced threats to their land and resources, NGOs collaborated with them to bring their concerns to UN bodies, fostering a stronger connection between local issues and global human rights discourse.
PROPOSED TOPICS AND PANELS;
1. Inclusion of Youths in the Implementation of the African Union Agenda 2063:
2. Assessing Achievements and Hurdles of the Maputo Protocol:
3. Balancing Progress and Privacy: Navigating AI, Data Protection, and Human Rights in African Context:
4. Analyzing the Implications and Impacts of Anti-Constitutional Changes in African Nations:
5. Confronting Racism, Xenophobia, and Discrimination of Migrants in Northern Africa:
6. Exploring the Challenges and Responses to Shrinking Civic Space in African Societies:
7. Accountability for Reprisals and Judicial Killings in Africa's Pursuit of Human Rights:
8. Exploring the Right to Development and Inclusive Growth through the African Continental Free Trade Area Agreement:
9. Rights and Trade: Reflecting on UDHR's 75th Anniversary and Its Alignment with the Implementation of AfCFTA and the "Africa We Want:
9. Rights and Trade: Reflecting on UDHR's 75th Anniversary and Its Alignment with the Implementation of AfCFTA and the "Africa We Want:
10. The Crucial Role of NGOs in Enhancing UN-Human Rights Mechanisms in Africa:
11. Strengthening Democracy and Ensuring Fair Elections across African Nations:
12. Charting the Path to Silencing Guns and Sustaining Peace in Africa:
The
general content of the Forum will cover three (3) main thematic areas namely:
Status of Human Rights and Democracy in Africa
(update from sub-regional Focal Points on the general situation)
Special Interest Groups Discussions
(Kindly note that the list is not extensive, new interest groups are welcome)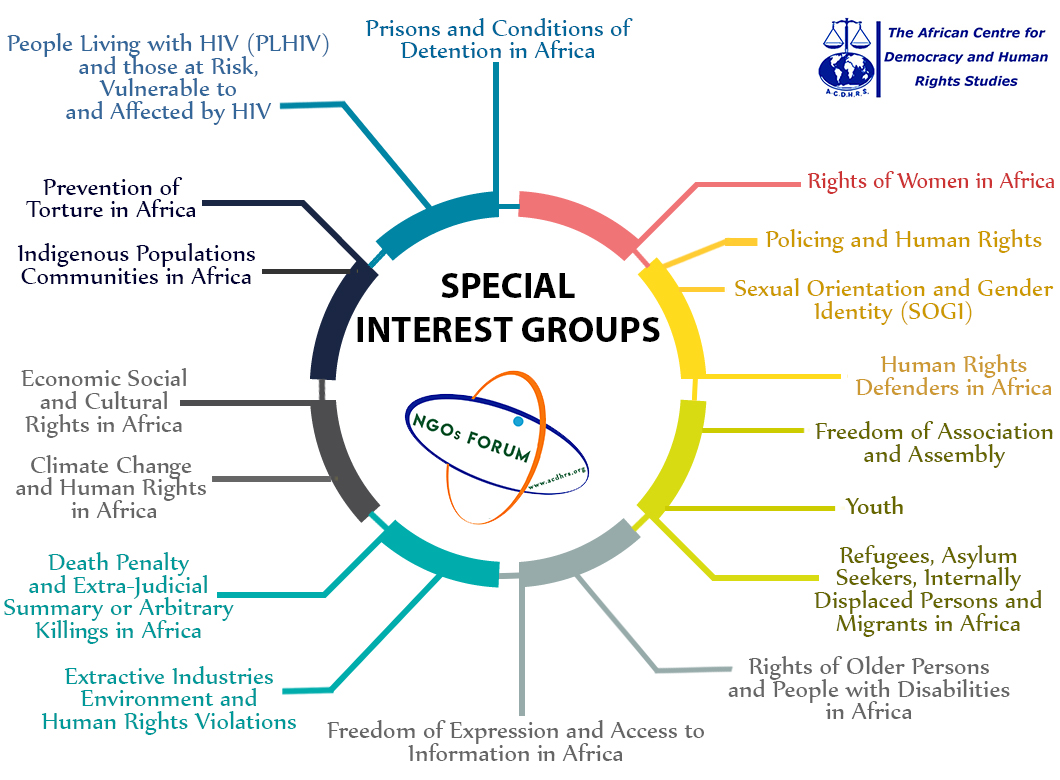 Networking for Human Rights in Africa
(sharing experiences, best practices and lessons learnt towards durable solutions for forced displacement in Africa) A series of panel discussions on general human rights related issues will be organized within the main agenda of the NGOs Forum as well as at side events, and even extending to the margins of the Ordinary Session.
Languages:
English and French are the languages of the NGOs Forum with available simultaneous interpretation facilities.
Participants:
Representatives from African civil society/NGOs, international NGOs from Africa and beyond working on youth, democracy, human rights and the rule of law issues, academia, media, etc.
Expected Outcomes
Document general trends and Situation of human rights, democracy and rule of law in Africa.
Networking and partnership building with and amongst participants/stakeholders
Adopting Recommendations and resolutions where necessary to highlight them at the opening of the 77th Ordinary Session.
Visa:
Participants are encouraged to make the necessary visa arrangements, where required, before departing from their respective countries to Tanzania. Where participants do not have Tanzania Diplomatic Representation in their countries of residence, the ACDHRS would endeavor to facilitate the issuance of visa on arrival to such participants, provided the ACDHRS is informed well in advance and provided with the requisite information to facilitate the process
Accommodation:
The African Centre would distribute negotiated room rates to participants.
REGISTRATION
All participants are required to pay a subsidized registration fee of $150.00 (one hundred and fifty Dollars) or its equivalent in Gambian Dalasis, Euros, Pounds or CFA. The said amount contributes towards expenses relating to the conference package (conference room, tea and coffee, lunch, water, interpretation equipment and interpreters' fees, projector, documentation, stationery and other administrative logistics/support) provided during the Forum only. Furthermore, note that the said amount must be paid by ALL participants in cash at the registration desk.
PANEL FEES
Kindly complete the panel request form below no later than Friday, 15th September, 2023. Please note that the African Centre is not obliged to receive and process panel requests received after the deadline. Partners are required to contribute the amount US$300.00 (three hundred US Dollars) for all approved requests as their contribution towards the organization of the NGOs Forum.
Please note that for panel requests to be considered by the Steering Committee of the NGOs Forum, all request must be framed around the theme of the Forum.
Administrative Fees for side events:
Some duties, amongst others that will be undertaken by the African Centre include booking of meeting venue, distribution of invitation letters, registration of participants, booking and confirmation of interpreters (if any), facilitate purchase of stationery (if any), prepare folders, prepare name tags, badges, tying of banner, planning sitting position, distribute documentation, photocopying, etc.
However, if the African Centre is informed of the organization of the side event only for its information, then the Partner would not be required to pay the administrative fee.
Please disseminate this information to your networks as widely as possible
For further informations or clarifications, contact: